Issue Symptom
If you've received this message in TextFree while attempting to log in:
"Something Went Wrong - There may be an issue with your connection. Please try again or visit our help center if you need a hand."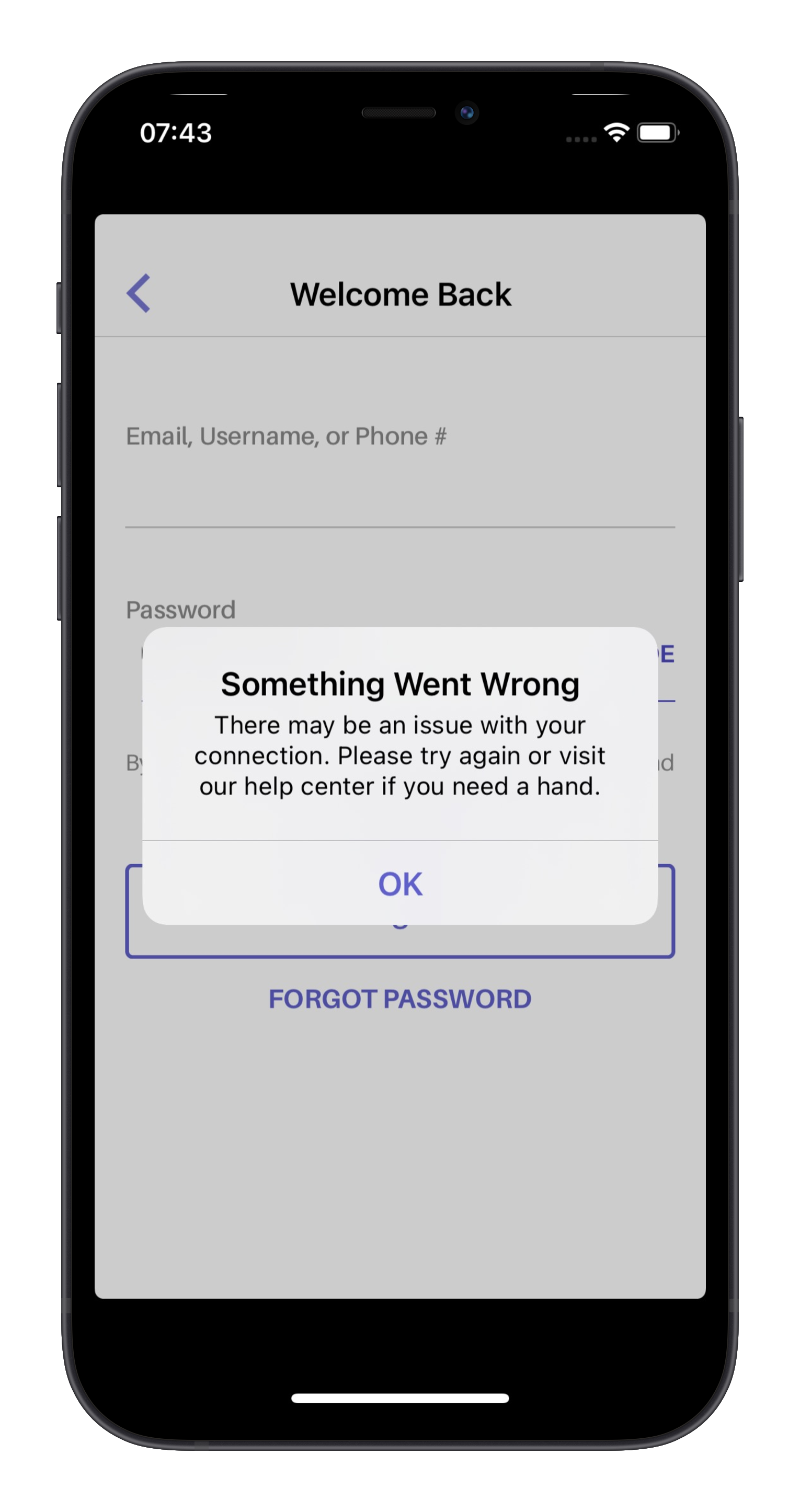 Condition
Using TextFree mobile to log in
Cause & Resolution
Before you begin troubleshooting:
Are you trying to use TextFree while traveling outside the US?

If so, this may be the reason you are experiencing issues with the app (learn more.)

Are you trying to log into a TextFree account that is currently closed?

If so, you will need to reach out to TextFree Support to reopen your account.
If you said no to the questions above, please proceed to the steps below to troubleshoot. After each step, try logging into TextFree again to determine the root cause of the issue.
Check WiFi connection - TextFree uses your connection and carrier data (if you have a data plan) to function properly, so without a stable connection, you may encounter issues with logging into TextFree.
Disconnect VPN and reconnect to WiFi (if applicable) - some common IP addresses associated with a VPN may be blocked which could be causing your login issue (more info)
If you are still unable to log in after establishing a strong WiFi connection while not using a VPN, we recommend disabling WiFi altogether and using your cell data to log in (to determine if the WiFi connection is the issue)
If you're still experiencing issues, we suggest the following troubleshooting steps that we've seen resolve some login issues:
Turn on Airplane Mode for 2 minutes > Restart Device > Attempt to log in
Reset Network Settings
Uninstall & Reinstall TextFree
Important regarding reinstall:
Android users:

TextFree does not support OS versions below 7. Devices on OS 6 or below can still use the app, but will no longer be able to install any new versions of the app from the Google Play Store, which often contain bug fixes or updates to the existing features or functionality.

Recommended:

Upgrade your device's OS to 7 and above to receive any future updates to TextFree.

iOS users:

If you are on iOS version 12 or below, we advise against uninstalling TextFree as the app might not be available for reinstallation in iTunes due to the end of support for iOS 12 and below.
If you're still experiencing issues with logging into TextFree after working through the steps above, please submit a request and we will assist you.