Are you an Android user who is receiving the pop-up message below every time you try to log into the TextFree app? If so, please view the information below in an attempt to resolve the issue.
Issue symptoms
Unable to login
Receiving the error message "Please set your device to the correct date. This is a security requirement (and helpful if you forget what day it is)"

Conditions
You are using an Android device when attempting to login
Cause and resolution
This error message is typically caused by one (or both) of the items below:
Your device date and time settings are set incorrectly
The security certificate is disabled or missing (TextFree needs this to connect to the internet)
Please try the following steps below to further troubleshoot this issue:
Check your device date/time
Tap on your device 'Settings' (outside of Sideline)
Tap on 'General'
Tap on 'Date and Time'
Enable 'Set Automatically' (if disabled)
Ensure your security certificate is enabled
Go to Android Settings
Tap the 'General' tab
Select 'Lock screen and security'
Select 'Encryption & credentials'
Tap 'Trusted credentials'
Scroll to find Thawte, Inc. Primary Root CA

Swipe right to enable (if currently disabled)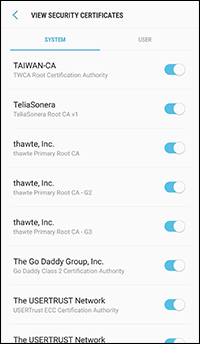 Please Note: If Thawte, Inc. Primary Root CA is not an option in your device's list of security certificates, please submit a request and we'll send you a link to download the certificate to your device.